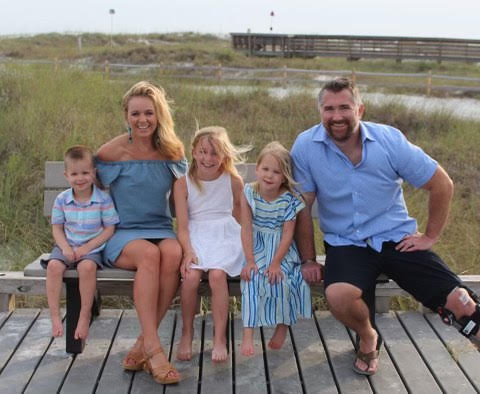 Jason Bates
Highland Village Town Council, Place 5
Jason Bates' journey to Highland Village has been eclectic and varied, but he and his family are excited to call this community home for the long run. The values of Texas and Highland Village mirror his own; it is a place to put roots down after a decade of transitions.
Jason was born and raised in Virginia. In 2006 he received a Bachelor of Studio Arts in Drawing from Taylor University in Upland, IN. Following graduation, he entered the Army and was commissioned a Second Lieutenant in 2006 at Fort Benning, GA. Jason was then stationed at Fort Hood, TX in 2008 and took his first command with the 1st Cavalry Division as an infantry platoon leader. In 2008, he married the love of his life, Megan Bates.
Deployed from 2008-2009, Jason participated in full spectrum combat operations in Mosul, Iraq. He was a recipient of The Bronze Star Medal in contributing to the success of building a free and democratic nation for the citizens of Iraq and to efforts to win the global war on terrorism. He and his soldiers served with honor and distinction as the personal security detail for 3-8 Battalion.
He was honorably discharged from active duty in 2010. Then Captain Jason Bates moved to Fort Wayne, IN, where he took on two new roles, one as an infantry company commander in the Army Reserve and the other as the primary caretaker for his first child, Elizabeth.
Moving to Portage, MI in 2011, he worked as the Art Director for The Bridge Church and from 2013-2016 was the Customer Service Team Leader for Stryker Medical. It was at this time that he went to graduate school, earning a Masters of Divinity from Liberty University in 2015. During their stay in Michigan, the Bates family grew by two with the births of Molly and Michael.
Following a promotion for his wife, Jason moved to California in 2016 and then Minnesota in 2017. In 2018, the Bates family made one last move, back to the state of Texas.
Since then, Jason has lived in Highland Village with his wife and three children. He is an involved member with Lantana Community Church, thoroughly enjoys his relationships at Crossfit Flowermound, and while not Texan by birth is proud to say he is Texan by choice. Jason's children are always at the forefront of his responsibilities, but following the politically charged nature of 2020, he has once again felt called to serve his community. He hopes to apply his proven leadership experience to help Highland Village move into a bright future emphasizing prosperity through freedom.